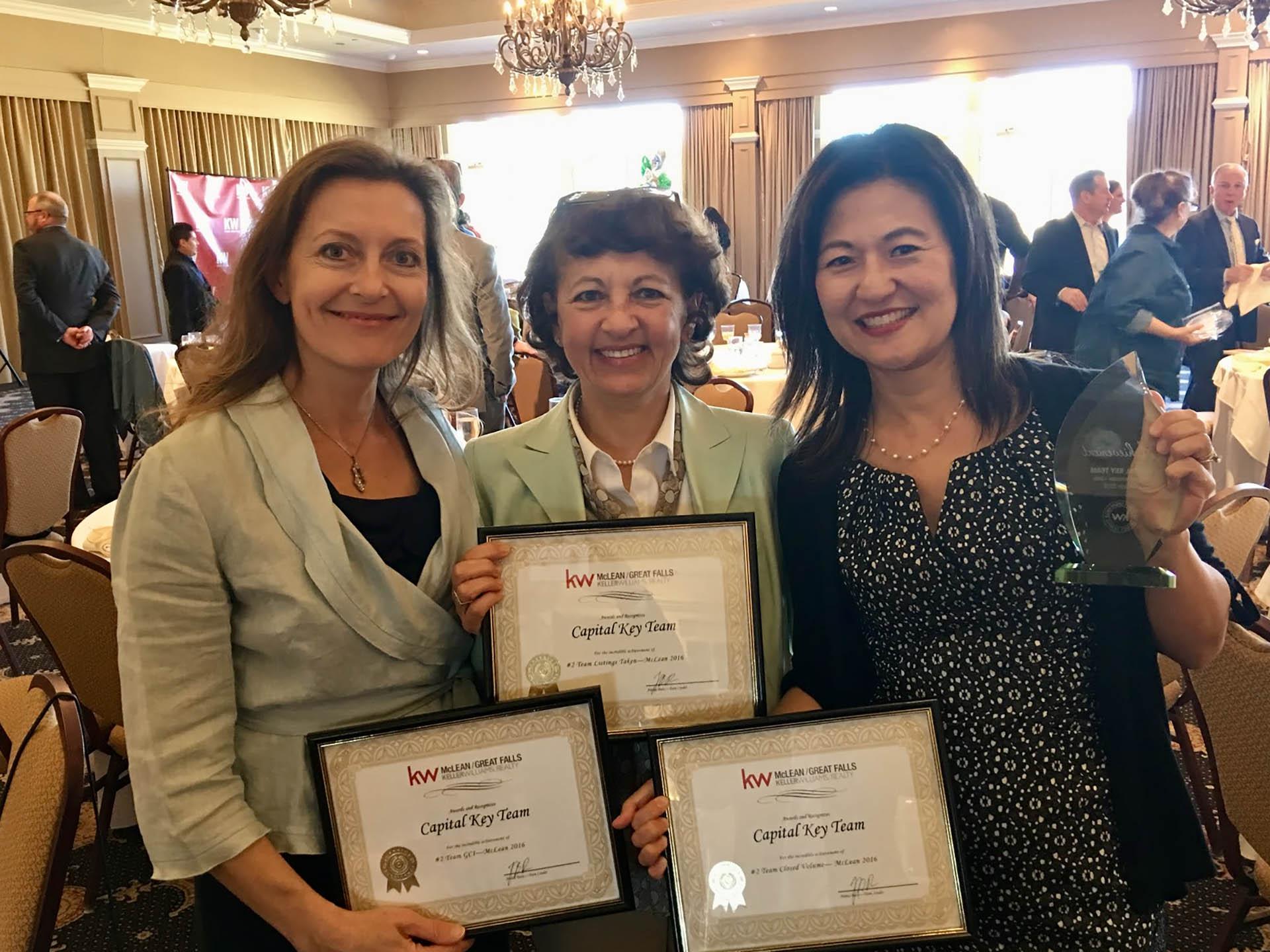 "Our experience with Isabelle Jelinski was unparalleled. We were handling a relative's estate and the home needed extensive remodeling. Isabelle guided us every step along the way. Her advice and assistance were key to maximizing our return on the upgrades to the property. Moreover, she stayed in contact with us throughout the 6-month process. We could not be more enthusiastic about Isabelle. You will not find a more considerate or effective realtor.

Karen M
"My husband and I had a great experience working with Sungjin. She is trustworthy, reliable and honest. She was very responsive, answered all our questions and was super helpful throughout our home buying process! We appreciated the care and wisdom she gave to put down a competitive offer which was eventually accepted! We feel so happy in our new home and this would not have happened without her. We highly recommend Sungjin and the Capital Key Team.

Mary & Mobin J
""It was so much fun when we would run out of the house to view properties and we thought we'd found 'the one'. We're so excited, relieved and most of all blessed, that we will soon be moving into our beautiful, forever home.

We are really lucky that everything worked out for the best and it's been wonderful working with Sandy. The entire process has been handled with pure professionalism from the beginning and we will miss working with her.

If we hear of anyone who is in search of a professional realtor, we will point them her way. Sandy is truly awesome at what she does and we appreciate all of her attention to detail and hard work.

This year, there is so much to be thankful for. Among that list, we are happy Sandy helped us to turn our dream into a reality. We really value all that she's done for us".

Alex & Oscar C.
"Be smart and use Angela Chen for buying or selling your home. She was instrumental in the selling of my home in lorton and the buying of a new-build in aldie.

She went above and beyond on both transactions to make sure that we are taken care of as buyers and sellers. Please contact me cause I have a thousand reasons why Angela should be your next agent.

A thousand times would highly recommend Angela to all my friends and family.

Cheata R.

Seller
"It was a true pleasure working with Sungjin and Isabelle. They are very knowledgeable of the D.C./VA market and they expertly guided us from the beginning until the end. They diligently worked on our behalf and represented us extremely well. We highly recommend them to anyone looking to buy or sell in the area.

James L
"Last year we bought our first home together with the help from Sungjin. We had started our search about a year before and Sungjin guided us with unwavering support from the very first day to closing day. Sungjin had helped my wife in the same manner previously in purchasing her first property, so I knew we were in good hands. Sungjin really went above & beyond throughout this marathon of a search (e.g. visiting/inspecting a house on a Sunday morning through torrential rain, quickly huddling over a 3-way conference call to adjust the bidding strategy that resulted in a winning offer). We can't wait to work with Sungjin again in the future, and we'd recommend her to family, friends, and anyone who is looking to purchase their next home!

Isaac Y & Johanna S
"As fifty-year residents of the Washington Metropolitan area, the decision to retire, sell our home and relocate to another state was overwhelming! Thanks to the amazing services, and the relationship we very quickly developed with Sandy Pickett, our transition could not have been smoother.

From the moment of her initial presentation to us, there was no question in our minds that she was the agent we wanted to list our home – the best decision we ever made. Our house sold in 11 days, that's the good news! The sad news is we wish we had had more time to work with her.

Throughout the entire process, Sandy demonstrated extreme professionalism, and an intricate knowledge of every detail of the contract. She kept us well informed every step of the way, and she didn't shy away from a potential difficult issue. Nothing was ever too much trouble for her, and she went way beyond the "call of duty" on many occasions to phone/text, or even come by our home to keep us in the loop or to strategize, always seeking our input or "approval".

Sandy displayed all of the best qualities you could ask for in a real estate agent, and she repeatedly exhibited that her commitment to her client is her No. 1 priority! She consistently demonstrated her willingness to represent her clients to the best of her ability, and nothing was ever too much trouble for her. Her marketing strategy was brilliant, and that effort culminated in a very quick sale and closing. We could not have asked for a better advocate, or a person with more integrity.

As an inside, and as further testament to Sandy's dedication to her profession, and consequently to her clients, she participates in continuing education courses and certifications.

Through our interactions on a professional level with Sandy, we have come to admire her and consider her to be a dear friend who we would happily recommend to anyone considering the sale or purchase of a home. She is the consummate real estate professional, and we value her counsel and advice on all things real estate!

Carol and David B.
"If you're looking for a realtor who is responsive, knowledgeable, helpful, and friendly, then contact Angela. My husband and I were looking for a new place to live with our toddler and Angela helped us tour various homes in the area of our choice. Not only did she provide us with a comprehensive list of homes, but she always answered my calls, texts, and emails in a timely manner if I had questions about the different homes. And ultimately, her being able to show us places quickly helped us make the right decision. I can't thank her enough for helping us end up at the right home for my family! I highly recommend you use Angela for your real estate needs in the Northern VA area!

Erin B.
"Isabelle, as I expected based on my earlier experience with her, came through masterfully. I was a first-time home buyer, and she was both extremely knowledgeable and patient. I essentially retained her as a buyer's agent. The unique payoff I got from retaining her was that she acted totally on my behalf, taking aggressive positions versus the seller. The final payoff of her "campaign" was highly beneficial for me. I will happily recommend her to friends and colleagues.

Norman F
"We had a wonderful experience with Capital Key. Sungjin was our realtor. She is very knowledgeable and felt very comfortable trusting her with the biggest purchase of our lives! She obviously loves her work as she was extremely responsive and timely. She kept our goals and budget in mind which we felt very respected by. She was patient and not pushy at all, which helped us trust her even more.

We had the pleasure of working with Angela briefly while Sungjin was indisposed. Their styles were different, but you can tell they work with the same ethics and are very supportive of one another.

We also really valued their recommendations for inspectors, loan officers, and other home repair companies we needed during our contract. When they gave us a recommendation we would compare it to other finds on yelp and in the end we almost always went with who our realtors suggestions based on reviews and cost.
We felt extremely cared for throughout the process. We are very thankful for our experience with Capital Key and we recommend them to anyone we know with real estate needs.

Megan & Tom C
"Regarding the sale of my sister's home, Sandy made a difficult situation for me and my family much easier. I am truly grateful for her professionalism, and integrity.

Sandy is an extremely professional, articulate realtor that I or my family would recommend to anyone looking to buy or sell real estate.

Sharon S.

The family of Laurie K.
"My wife and I have worked with Angela on 2 VA purchases; 1 for a condo in November of 2017 and 1 for a townhome purchase.  Our condo purchase went without many hiccups; a relatively smooth transaction.  Our current purchase has had quite a few things come up; first with the inspection, then with the appraisal.  Through it all, Angela has been very professional, extremely quick to respond, and has gone above and beyond throughout the entire purchase process.

For our current purchase, we first met with Angela to let her know that we are looking to purchase something a little bigger than where we were currently, as our family was growing.  She was very attentive to our needs.  She asked all of the relevant questions: location, must-haves, budget, etc.  She visited countless homes with us before we found one to settle on.  Throughout this process, we were working with a bank she had recommended who was also very attentive and responsive.

Once we finally found the home, she worked with us to ensure that we had a very competitive offer (that was eventually accepted).  The market, at the time, had very low inventory, so Angela advised us as to how to make our offer more competitive than other buyers.  Once the offer was accepted, she worked very hard advocating for us as buyers through the inspection and appraisal process.  She went out of her way to help negotiate with the buyer.  She is selfless with her time; sacrificing time with her family to address anything with a moment's notice.  We are truly blessed to have worked with Angela.

We would highly recommend Angela and the Capital Key Team if you are looking for a new home in the NOVA area.  They absolutely live up to their motto, "where clients are like family.

Isac K
"I've been a real estate investor for more than 15 years and a McLean, VA resident since 2005, and I had not come across an agent as dedicated, competent and extremely personable as Isabelle Jelinski. Isabelle played a major role in helping me secure a desirable property significantly below listed price, as part of a complex 1031 exchange transaction. Her comprehensive market analysis, her availability and tireless efforts to visit so many properties — even with short notices and in difficult weather conditions — coupled with a positive attitude that guarantees negotiation success, make Isabelle a trusted partner and an invaluable resource for anyone interested in buying, selling or renting a property in this market.

Sergio S
"We worked with Sungjin to help sell my childhood home in suburban Maryland. The house had a lot of deferred maintenance and Sungjin helped us to coordinate renovations and even checked on some of the final renovations when we had already moved out of the area. It was only through her network that we would have found an investor interested in buying the house for a fair price in an as-is sale. She was cognizant of our desires as a family and was very helpful throughout the process; she never pressured us towards a quick sale, rather made sure that we were making the smartest choice and gave us great advice throughout the process. Sungjin was a pleasure to work with and extremely patient as my mother is very detail oriented. She was responsive, professional, and very knowledgeable. I would absolutely recommend her to anyone looking to buy or sell in the area.

Jessica Y & Bryan L
"We wanted to express our most heartfelt appreciation for the teamwork of Sandy, our listing agent, and Marianne, the buyer's agent Sandy connected us with in the San Francisco Bay Area. We are grateful for all the work they both put towards our home sale and next purchase. Whether it was through early morning or late night calls, text messages at all hours of the day, staging and pricing our home to get multiple offers and a price that exceeded our expectation or orchestrating 20 showings in under 2 days in the East Bay Area, Kirti and I are mind-blown by the dedication, professionalism, industry knowledge, integrity and care they both have shown us.

Kirti & Sandeep K.
"Angela did a great job helping my family and I!  We were moving from CT to VA on a very short timeline and she bent over backwards to make sure that the process went smooth for us.  Our first choice fell through within weeks of our move and Angela quickly helped us find another place.  She was professional and pleasant to work with and was patient with our young son who tagged along to showings with me.  Thank you for all that you've done to find our family the perfect home!

Aaron N
"Isabelle, we cannot begin to adequately express our deep appreciation and gratitude for helping us buy the house we currently live in. Your very high level of professionalism, expertise and knowledge made us interested in working with you. We are also indebted to your warmth and friendship during those grueling months when we felt discouraged. We are firmly convinced that we got the remarkable REALTOR® in the area who was very willing to give the best possible advice. What we particularly appreciated about you was that you were always honest and candid and never wasted our time. You were at all times a thorough and persevering professional. You did everything in a timely manner, with a positive attitude. Thanks again a hundredfold for all you did for us in purchasing the property in McLean. Thank you!

Nadeem & Nasreen S
"Sungjin made the process of finding a renter for my parents' condo smooth and easy.  She was always available and timely in her responses.  She has a wealth of information and is extremely helpful

Olivia K
"Angela & her team did a great job at helping us find a rental. We really appreciated her attention to detail and her knowledge of the area: even though we had a lot of complicated requirements, Angela found us a perfect place at a great price.

Phillip S
"As a first-time home buyer from California, I will admit I had an unrealistic expectation of the real estate market here in VA. I quickly learned how frustrating the house hunting process could be, and I was about to give up on purchasing when I was introduced to Isabelle who was able to guide me through the entire process. Isabelle is patient and listened to my needs. She is extremely knowledgeable in the VA real estate market. In a very short time after our initial conversation, Isabelle was able to work with me to get the home of my dream within the price range I wanted at. She is a true professional who spends countless hours researching and updating me on every step of the way. She turned an otherwise frustrating situation into a smooth, stress free home buying experience. In the end I am happy to say I not only got the home of my dreams but I also gained a new friend. I would definitely work with Isabelle again for future home purchases and I recommend her to every home buyer.

Peter H
"Sungjin and her team were awesome through the whole home-selling process. Even though we were geographically separated from our rental property, she worked hand-in-hand with our property manager and made our home-selling process so smooth and efficient, even though we were thousands of miles away. Sungjin was always responsive, a true professional and took care of everything, which put our minds at ease. If you want an ace team of professionals, give Sungin and her team a call ASAP!

Jung & Jean H
"My wife and I worked with Angela to list our rental property. And we had an aggressive target of 3 weeks to get it up and rented for a smooth transition to our new place. And she *GOT IT DONE*! And I really can't say enough good things about her. She is knowledgeable, approachable, personable, endlessly patient, and incredibly generous with her time (including mornings, evenings, and weekends). She answered every question and explained every form and every part of the process clearly and thoroughly. Renting a property can be daunting as it always poses unforeseen challenges but working with Angela made it as painless and straightforward as possible. We highly recommend her. Thank you and keep up the good work!

Ashish S
"Sungjin as well as Isabelle were a dream to work with. My boyfriend and I who had never officially lived together went to meet with Sungjin without any idea about what to expect when purchasing our first home. She patiently guided us to the process. Sungjin is well connected within this field and helped us find better options for financing as well as advising us every step of the way. I found her through a referral and I would never hesitate recommending her to anyone looking to buy or rent a home in Northern Virginia.

Liz F
"Angela Chen is absolutely amazing to work with! She is supportive, informed, positive and encouraging! As a first-time potential homebuyer, I had so many questions and concerns, and she answered all of them. Anyone would be lucky to work with Angela!

Sarah B
"Sungjin is amazing! 1st time buyer and she made it so easy and comfortable for me. I had a million and one questions, she was able to answer them all, find me the right home, and recommend a great lender that helped me close without any hitches. She is great at what she does and you can tell she really loves her job and care for her clients. Thanks again Sungjin!!

Jenny C
"My husband and I worked with Angela and she was an incredible help to us in our home-buying journey. We ended up getting the first house we placed an offer on and Angela got us an awesome deal! She was thorough, always available for our questions, offered practical advice when we asked for it and even added some humor into the process – which is a HUGE win during what's naturally a stressful endeavor! On our closing date, she was running around the office playing with our toddler son and making him laugh as we signed unending paperwork. Just knowing we had someone who had our family's best interest at heart on our side, it meant the world! We would recommend Angela and the entire Capital Key team to anyone looking to buy, sell, or rent in the Northern Virginia area!

Rachel L
"My husband and I had such a wonderful experience with Sungjin and her team. Sungjin sold our condo and helped us purchase our dream home. I anticipated the entire home selling + buying process to be stressful, but with Sungjin it was the smoothest it could have been! The condo fees in our neighborhood were slightly high for the area, so I was anticipating our condo to be on the market for a while. However, I was very impressed at how Sungjin sold our condo in two weeks at our asking price! She took high quality photos of our condo which I believe also helped in marketing our home. She also helped us to purchase our home soon after the condo sold. Initially we were looking to purchase just a TH, but we were able to purchase a SFH with the help of Sungjin and her negotiation skills. We ended up with so much more in a home than we could have asked for. We are extremely grateful for her help and recommend this team if you are looking to buy or sell!

Elisa & Ted Y
"Angela Chen was fabulous to work with. Here's why: 1) she was always punctual, professional, and provided information whenever we met up 2) she is extremely responsive on email and also diligent in getting answers 3) She was always willing to help out in any way, including holding our child as we toured properties! 4) She gave her opinion but also didn't push on us, instead presenting us with options and talking us through pros and cons. She was also so patient with us as we sometimes vacillated in what we wanted 5) she is extremely trustworthy and just gives you a sense of feeling taken care of and no need to worry in something as huge as a house search! We are first time home buyers, won the home we had desired with our very first offer, and we could not have done it without Angela!

Mikey W
"Sungjin made our move to NOVA easy. We were able to find the right house quickly and we moved through the close seamlessly. Sungjin did not just sell us a house, she helped us get to know the area. Besides quickly replying to our calls throughout the process, she has helped us since settling into our new house. I would not hesitate to refer anyone to Sungjin.

Ben & Amber S
"Angela is amazing!! I am ever so thankful that we had her as a realtor. I was very worried about buying a home late in the year and season but Angela made it easy and as stress free as possible. She was always willing to answer my many questions and walk me through each step. She was patient and very responsive (even willing to answer my many questions late in the evening). I thought buying a home would be very overwhelming but looking back now, I can see that it went really well thanks to Angela guiding us every step of the way. She was a strong advocate for us and you could tell she wanted to be sure we found the home right for us! I would definitely work with her and the capital key team again and highly recommend her to everyone I know interested in buying a home!

Stephanie B
"We worked with Angela Chen, and she was great: thorough, knowledgeable, and responsive. Angela was right there with us every step of the way, in what felt like a complicated process. She kept us informed about where we were in the process, what each step meant, and answered all of our questions–even if that meant humbly admitting uncertainty and asking her team at Capital Key.

On top of all of that, she demonstrated that she was an advocate for us. She made sure sellers were being straight with us by asking tough questions, answered our questions even if we asked late into the night, and offered advice without making decisions for us. We could tell that Angela was on our side and personally cared that we got the house that best suited us. I'd love to work with her and Capital Key again.

Ben B
"We first came to know Sungjin as a friend, and then later as her clients. Volunteering for Montgomery County's Friends in Action program, we worked together with Sungjin to help and support a local family in need. During this experience, we witnessed Sungjin's compassion and personal commitment to the care and well-being of her community. Soon after, we encountered this same kind of commitment and care as she helped us search for a new home and sell our old one. During this process, we were continually impressed by her quick responsiveness to our inquiries, her invaluable advice and support, and her patience as she helped us through the various stages of buying and selling. We could not have asked for a better agent to represent us.

Thomas & Christine S
"Overall a really solid team to work with. Sungjin helped my parents with their transition down from upstate NY to the Virginia area. She helped assess all of their needs - down to where they would most likely shop to the places where dad would want to spend most of his retirement time. She narrowed down several locations and made the choice quick and easy. The house they settled on couldn't be in a better location and she helped them to move quickly through the closing. Highly recommend their services.

Tim & Sarah L
"Without a doubt the best realtor experience I've ever had. Having moved about every 2-3yrs early in life, and now making a major move (from TX to VA), my wife and I can assure you that Sungjin will provide superior service. For me, communication is critical – both speed and accuracy. Sungjin was timely in responding to questions, swift to pursue information or negotiations on our behalf, and willing to dialogue through multiple means and at inconvenient times. Our offer/counter-offer process was complicated and protracted, but she always kept at it and did so with grace and a smile. A sincere smile that told us, "I really do care about you as people and want your best." Sungjin located a trustworthy lender with whom we could work and this proved to be an essential component of us getting the property at the top of our list. If we ever have any real estate needs in the future in the NOVA (northern Virginia) or southern Maryland region, we will only sign on with Sungjin.

Josh & Eva B
"Sungjin has helped my wife and me sell 2 homes and buy 1. She is knowledgeable, responsive, and trustworthy to act with integrity in her clients' best interests. Anybody she has referred us to (contractors, lenders, stagers, movers) have also provided great service at reasonable prices.

When we sold our townhouse last year, Sungjin went far above and beyond after my family and I relocated while the house was on the market. She coordinated everything "on the ground" for us so that we wouldn't have to fly back and forth - contractors, moving services, you name it. I highly recommend Sungjin and her Capital Key Team.

Kevin & Betty F